Sign up as a Business
Here is a quick (2 minute) video in setting up your business.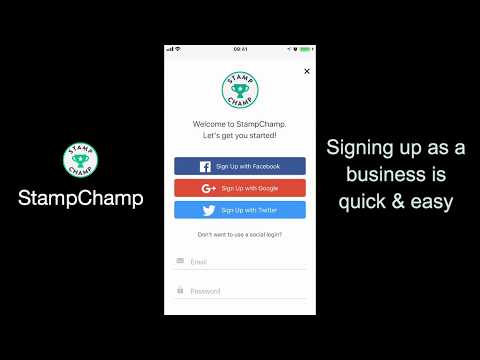 I've signed up using social media, but now I want to sign up as a business
Every user will have a personal profile created with their email address (provided by the socila login).
Once you sign in successfully, you can "Add a business" under "My Profile". You can then switch between your personal profile and business account by clicking on the profile name below your avatar in the left hand main menu.
Can I have multiple users for a business account?
Yes, you can invite employees to join your business using their email address.
Simply go to "Settings" and "Manage employees". Then click "Invite", enter their email address and send invitation.
Employees will only have access to give stamps and redeem items on your behalf.
I don't have a business phone
StampChamp runs on both iOS and Android, so you can use your own personal phone if you're the only one running the business.
If you have employees and would like to have a business phone, but also don't want to spend a fortune, you can easily find a cheaper mobile phone that runs Android for under £100. There are many places that you can look for affordable phones, here are some suggestions:
Don't forget, StampChamp requires an internet connection. This doesn't necessarily mean you have to get a 3G/4G SIM card, instead you can simply connect to your Wifi or use a personal hotspot.